Braun Industries, Inc. will be participating as an exhibitor at EMS World Expo 2015. The Expo is being held September 15th through 19th in Las Vegas, Nevada. The Las Vegas Convention Center will be host to the Conference and Exhibit Hall; Braun will be located in booth #643. The ambulance manufacturer will have three customer units on display in their booth. There will also be a Braun ambulance on display in the GM Fleet & Commercial booth, #1159.
"EMS World Expo is one of the biggest and best shows we attend annually," says Braun's Vice President of Sales and Marketing, Chad Brown. "We are looking forward to joining the Expo this year as a Corporate Sponsor, as well as the sponsor for NAEMT's EMT of the Year Award. The Expo is such a wonderful opportunity for us to connect with end customers in person, hear what's important to them, and better understand how things are changing at ground level in the industry. We also enjoy meeting potential new customers and sharing with them what makes Braun Industries unique from other ambulance manufacturers. Having three customer units on display, along with a fourth in the GM booth, allows us to show off a wide range of product offerings and really get people thinking about the possibilities in designing their own custom ambulance. We hope everyone who is attending EMS World will plan to stop by and see us in Booth #643."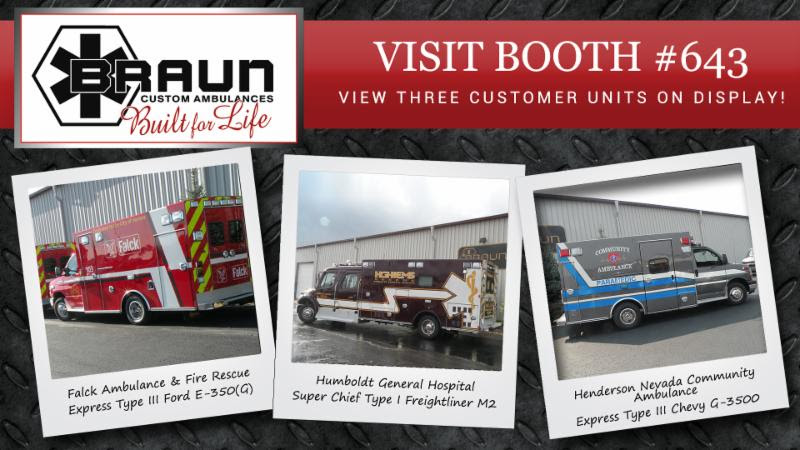 EMS World Expo is the largest EMS conference and trade show in North America. The event includes workshops, a conference program, integrated healthcare forum, and exhibit hall. Highlights planned for the 2015 expo are a keynote presentation by Brent Myers, MD, MPH, FACEP, as well as several speaking engagements by Terry Wrong, ABC's award-winning executive producer for "Boston EMS" and "Save My Life: Boston Trauma." Braun Industries is especially looking forward to Wrong's sessions on September 17th and 18th, which will include video clips from "Boston EMS" and a question and answer session. Boston EMS is a Braun customer, and Braun ambulances are often featured in use on the show. 
Chad Brown and Regional Sales Manager, Jerry Jones, will be attending from Braun Industries direct. Members of Braun's national dealer network will also be there, including ambulance sales representatives from Hughes Fire Equipment and Hi-Tech Emergency Vehicle Service, Inc. Both companies are recent additions to the Braun dealer network, and are looking forward to connecting with local departments they serve on the West Coast. Penn Care, Inc and Lone Star Emergency Vehicles will also have reps at the show; Penn Care is located in Ohio and Lone Star's home base is in Texas. Attendees can stop by Booth #643 to have their questions answered by a knowledgeable Braun representative and receive a personal tour of the customer units on display. The following models will be on display: 2015 G-3500 Express Type III, 2015 M2 Freightliner Super Chief Type I, 2015 E-350 Express Type III.
Hot off the production line, Henderson Nevada Community Ambulance's 2015 Express Type III ambulance will debut at EMS World Expo. Part of a two unit order, the department worked with Braun and Hughes Fire Equipment to design and build the ambulance. The 144″ module is mounted on a Chevrolet G3500 chassis and features 168″ interior headroom. The Type III Express ambulance includes many standard Braun features and innovations the company is known for, including their SolidBody™ Construction, EZ Glide™ Door, MasterTech™ Electrical system, rounded interior corners, and aluminum interior cabinet construction. It also has a MedixSafe M2 narcotics locker, attendant's seat with 5 point harness and integrated child seat, squad bench with base storage, and much more.
A custom ambulance for Humboldt General Hospital will also be on display. The 2015 Super Chief Type I ambulance is mounted on a custom M2 Freightliner chassis. Designed to transport patients to Reno and Salt Lake – trips exceeding five hours from the hospital's home base in Winnemucca, Nevada – the ambulance is stocked with equipment for long runs and can handle any kind of trauma incident. The four door chassis is great for accommodating a standard crew size of three first responders. Inside, the unit includes two cots and a generator; one cot is a Stryker auto-load. It is a must-see unit at EMS World Expo!
Lastly, Braun Industries will be showcasing a 2015 Express Type III from Falck USA. The ambulance was part of an impressive nineteen unit order. Built on a Ford E-350 chassis, the 150″ Express is known as the best little "bus" in the business. The model was the perfect choice for Falck, as it features a wider aisle with more working room, increased interior cabinets storage, and external backboard storage for extra equipment and supply space. It has all aluminum cabinets, a formica-free interior without seams, a clean, bright working environment, and much more – making it popular choice for municipal EMS fleet managers and private companies like Falck. Another Falck unit will also be on display in the GM booth, #1159.
EMS World Expo Exhibit Hall hours are as follows: Thursday, September 17th from 11:30 am to 6:00 pm, Friday, September 19th from 11:30 am to 5:00 pm, Saturday, September 19th from 10:00 am to 1:30 pm.