Pelican Products has introduced the rugged 9410 LED Lantern, their most powerful handheld lighting tool ever. Engineered with an array of four next-generation LEDs, the 9410 LED Lantern shines a smoke-cutting 710 lumens/43,200 candela peak beam intensity.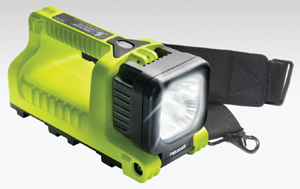 The 9410 LED Lantern offers three illumination modes (high, low and flashing) with a water-resistant electronic switch that toggles between modes at the push of a button. The switch also features an integrated battery level indicator that illuminates when the lantern is on – green (more than 75%) – amber (Between 75% and 25%) – red (25% and lower). Powered by the latest in Nickel Metal Hydride rechargeable battery technology, it boasts nearly two hours of run time (4 hours and 45 minutes on low mode).
Designed to stand on end, the lantern array can be rotated 120 degrees transforming it into an area work light. The 9410 LED also features a sure-grip, all-weather handle and an extra large space to accommodate gloved hands.
Rated IPX4 water-resistant, the lantern has an incredibly tough polymer construction that will stand up to just about any abuse that comes along. It weighs in at a mere 3 pounds (with batteries) and features a quick-release nylon safety strap that prevents entanglement. In order to ensure a secure attachment, the 9410 LED Lantern and charger base are rated NFPA 1901 for use on fire apparatuses. With an MSRP of $399.95, the lantern is available in black and safety yellow. Like all Pelican hand held lighting tools, the 9410 LED Lantern is backed by the company's Lifetime Guarantee of Excellence.
Pelican™ Products, Inc. is the global leader in the design and manufacture of advanced lighting systems and virtually indestructible cases. After acquiring Hardigg Industries in December 2008, the company now operates in 12 countries, with 22 offices and six manufacturing facilities across the globe. For more information, visit www.Pelican.com