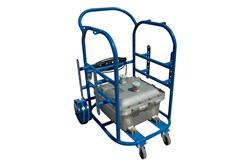 The EPL-TX-320-2XLV-DC explosion proof transformer from Larson Electronics is a convenient and reliable solution for operators in hazardous locations who need the ability to easily convert standard 120-277 VAC to low voltage 12/24 VDC current. This explosion proof transformer also acts as a power distribution system through the inclusion of two 20 amp Class 1 and 2, Division 1 and 2 receptacles designed to accept twist lock explosion proof plugs. This industrial grade transformer is ideal for maintenance and turnaround operations and includes 25 feet of heavy duty 16/3 SOOW cord ending in a 250V, 20 amp explosion proof male plug for safe and secure connections. The receptacles on this transformer accept either Larson Electronics' own EPP-15A and EPP-20A explosion proof plugs, or cross compatible Crouse Hind™ ENP general purpose plugs. Each receptacle features twist lock connection, deep recessed contacts, and chained dust caps to provide protection against contamination when not in use. The entire assembly is mounted to a heavy duty cart fabricated from non sparking aluminum with no flat rubber rear tires and solid front caster wheels. The cart is designed for easy mobility and also includes integral side brackets to provide easy storage of hand lamps and cords. This explosion proof step down transformer carries approvals for use in Class 1 Division 1 and 2 locations and is an ideal solution for operators who need the ability to run low voltage explosion proof lighting from any location where 120 VAC power is available.

"The EPL-TX-320-2XLV explosion proof low voltage transformerprovides operators with a class rated transformer for use within hazardous locations," said Robert Bresnahan with Larson Electronics Larson Electronics.com. "This cart mounted explosion proof step down transformers allows operators to supply low voltage to equipment in from readily available 120-277V AC power sources."
Larson Electronics carries an extensive line of power supplies, power distribution systems, portable power supplies, and explosion proof lighting equipment. You can view Larson Electronics' entire line of explosion proof equipment by visiting them on the web at Larsonelectronics.com. You can also call 1-800-369-6671 to learn more about all of Larson Electronics' lighting products or call 1-214-616-6180 for international inquires.